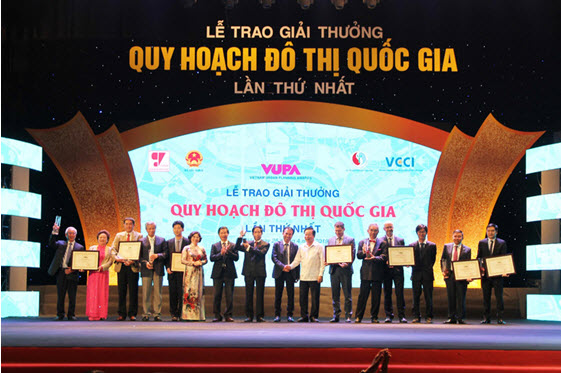 The National Urban Planning Award (VUPA) was established by VUPDA, with the sponsorship of the Ministry of Construction, Ministry of Natural Resources and Environment, Vietnam Chamber of Commerce and Industry to honor the authors who are architects, planners, urban managers, businesses, construction contractors, social organizations, people have made outstanding contributions in the process of urban planning and development.
The consortium S-Design & VIUP received the gold category B award
2018 is the first year the VUPA is awarded. From hundreds of projects, publications and organizations and individuals participating in the competition, the National Council of Urban Planning Awards for the first time decided to award 64 prizes, including 03 Special prizes, 14 Gold prizes, 10 Silver prizes, 19 Bronze prizes, 01 A prize, 03 B prizes, 6 C prizes, 4 Outstanding outstanding titles and 04 Excellent titles.
Construction planning magazine leader receives award A category C
Among them, Vietnam instituted for Urban and Rural Planning (VIUP) wins 12 prizes. Especially, VIUP received the 02 golden prizes for the master plan for Hanoi capital region to 2020, vision to 2050 (VIUP and Ile de France) and the complex of cultural buildings, museum, library, planning palace in Ha Long (VIUP and S-Design) and A prize for the publication: Construction planning Magazine.
These prizes affirm the role of VIUP in planning consultancy as well as contribute to encouraging VIUP's young planners for planning and urban - rural development in Vietnam.